On THe Spot Computer Repair
877-517-2626
Remote Rescue

PC Smart Medics now offers Remote Rescue Service. If your PC, or Mac needs help or you just want someone to look at your system and answer some questions Remote Rescue may just what you need. It is secure and fast allowing you to show your technician just what you need.
Web Development

PC Smart Medics offers full web development services including graphic and video development as well as database, ecommerce. and marketing analysis services.
Mobile Hot Spots

PC Smart Medics vehicles are now equipped with mobile WiFi hot spots allowing our technicians to have their own broadband connection handy for immediate remote support from the road or for on site diagnostics and testing.
Service & Pricing
Summary
PC Smart Medics respects your time and money. We will be on time or we will call in advance. We will make a diagnosis within the first hour of service and inform you of your repair and cost options. Your technician will remain your technician. You will not get a different person each time you call. You will remain in control of your repair.
Chicago Area Rates:
On Site Service - $110.00 p/hr
Off Site Priority - $85.00 p/hr
Off Site Standard - Flat Rate *
Remote Support - $1.40 p/mn
Emergency Travel - $110.00 p/hr
* See our pricing page for details.
See pricing page for rates in the Kankakee and other areas.
Additional Specialties :
Medical and Dental Information systems construction and maintenance
HIPPA compliance
Network Design and Maintenance
Network and PC Security
Web content filtering
MAC upgrade & repair
Industrial Grade PC's built to order
Data Recovery
Website development
Video Production for Web marketing
Remote data access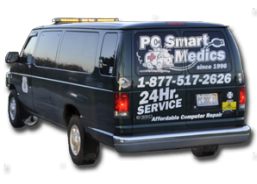 Welcome
We Can Help
Have the software guys told you it's a hardware problem?
Have the hardware guys told you it's a software problem?
Are you tired of having your data deleted each time your computer is repaired?
Maybe you are just tired of impersonal big box style wait your turn service?
DON'T PANIC! YOU HAVE FOUND THE HELP YOU NEED.
Our Mission
It is our mission to provide residential and small business customers with the same high level of personal IT support previously available only to large corporations at reasonable cost.
Who We Are
PC Smart Medics is family owned and dedicated to high quality personal service for individuals and small businesses.
Quick Contact Information
Telephone
877-517-2626 877-51 PCMAN 24hr. toll free
630-495-2340 Chicago area local
815-686-2063 Kankakee area local
Address
Chicago Area Office
PC Smart Medics
258 N Martha St.
Lombard, IL 60148
No charge for pickup and delivery to Western Suburbs
Kankakee Area Office
PC Smart Medics
9 N Arch Lane
Piper City, IL 60959
Electronic Mail
click here